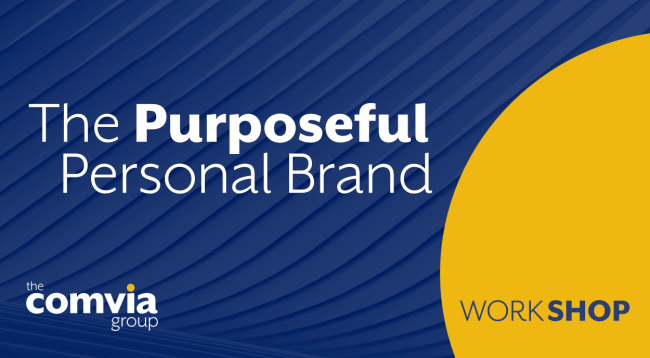 Discover the untapped power behind your unique personal brand and learn to clearly and confidently communicate it to others.
People often think of a personal brand as something you create to market yourself. We define it much more deeply. Your personal brand is the essence of who you are — your passions, what you value, the value you bring to others, and your authentic purpose. And yes, ultimately how you choose to show it to the world.
In this lively, interactive workshop, you will be inspired you to think more about the often-untapped power behind your unique personal brand. We will also share the foundational elements of our Personal Brand Discovery Process, which will help you focus on your purpose and make sure you are able to clearly communicate it to yourself, and to others.
In challenging and uncertain times, a purposeful personal brand is even more essential. It has the power to open your eyes to opportunities that may not have been visible in the past. Whether you are a solo practitioner, an employee of an organization, a senior executive, or a busines owner, being clear about your purpose will make you a better leader. It will also help you find jobs, opportunities, and clients who need what you do best and who share your passion for the same.
What a purposeful personal brand looks and sounds like
A proven process for exploring your unique passions, values, and authentic purpose
How to develop your own foundation for a purposeful personal brand and how to communicate it to different stakeholders
The importance of purpose in remaining relevant and more comfortable with change in challenging times
At the end of the workshop, each attendee will have the tools needed for building their purposeful personal brand and the confidence to clearly communicate it to others (and to evolve it over time).
When professionals are able to connect their work to what really matters to them individually, they are more likely to inspire others, be fulfilled, and achieve success. This program is designed for business leaders, business owners, and independent consultants who want to be more purposeful in their work, redefine their careers, or be able to clearly and confidently communicate their purpose, passions, talents, and value to others.  
Personal brand development training from leading experts in the field
Live, virtual instruction that provides the ability to ask questions and get your top concerns addressed in real time
Interactive, hands-on breakout sessions allowing you work with your peers to put your learnings into practice right away
A digital workbook containing all workshop materials
A truly interactive experience. All of our workshops combine

traditional

instruction with attendee participation to ensure

maximum

engagement and experiential learning

Limited seating to ensure an environment of collaboration, sharing, and focused attention.
A guarantee that you'll leave with a thorough understanding of the materials covered and an understanding of how they can be applied at work
Please be sure you are available and can

dedicate uninterrupted time

on both dates. 

Space is strictly limited. If the workshop is full, please subscribe to our newsletter to be the first to get notified of future workshop availability.

Virtual event

fees are non-refundable.

You may send a substitute to attend in your place at any time with no penalty. Please notify us as soon as possible.
We're happy to answer them! Use the form below to get in touch.