Leadership Communication
Coaching and Training
Leadership Communication
Coaching and Training
Influential and inspiring leadership requires self-awareness, emotional intelligence, and expert communication skills.

Helping teams reach their highest potential and be at their collaborative best through better communication.

Speaking, Presenting, & Storytelling
From the storyline and slides to delivery and Q&A, we'll make you a better presenter. Period.
Career Journey & Transition Coaching
Connect your purpose with your career path and be more fulfilled where you are, or more confident exploring something new.
Our proven system designed to help early- to mid-stage life sciences companies pitch like pros.
Write the Next Chapter of Your Career Programs
For senior leaders in healthcare who are considering a transition from a large healthcare company to one in the early stage.
Communication Coaching & Training for Healthcare Leaders
We understand the unique challenges and triumphs that healthcare leaders encounter every day…
Special Event • July 22, 2023!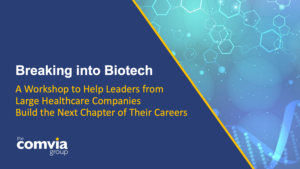 A Workshop to Help Leaders from Large Healthcare Companies Build the Next Chapter of Their Careers

We're a group of senior executives, communication experts, educators, and entrepreneurs — all with deep communication expertise and a passion for helping others.
We have coached and trained countless business leaders — helping them get their messages heard, convince stakeholders, become better presenters, improve interpersonal relationships, and inspire high-performing teams.
While our coaching programs and workshops are effective for individuals or teams in a variety of industries, many of our clients are in the marketing, life sciences, and healthcare industries since these areas are where our principals have spent the majority of their professional lives.