Coaching for Commitment Course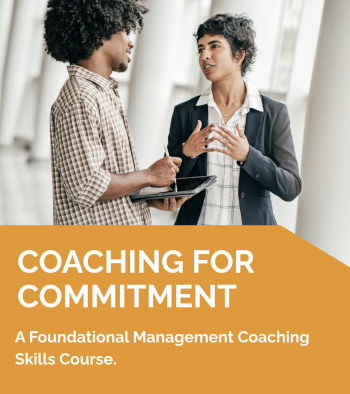 Soft Skills Training and Employee Performance Coaching for Managers and Senior Leaders
Offered by The Comvia Group in Partnership with Einblau & Associates
Improve the bottom line through performance, accountability, and productivity.
Today's workplace requires that leaders "coach" their employees to inspire commitment to productivity and results.
This course provides the tools and skills managers and leaders need to manage performance and ensure employees' ongoing commitment and accountability to superior results. Correcting poor performance and performance related problems is a task most managers avoid because they don't know how to discuss problems effectively with employees. This course addresses this dilemma and teaches two methodologies that give managers and leaders more confidence to initiate performance related conversations and give corrective feedback that yields results. 
Participants will learn:
How coaching can contribute to employee commitment, accountability and sustained superior performance

A real-world, practical model of coaching and coaching skills that you can use — the next day
An easy-to-use process for coaching and the skills involved in each of the four types of coaching conversations: confronting (performance improvement), counseling (problem solving), mentoring, and tutoring
How to apply the process and skills in practice situations
Course participants have told us they value the fact that the practical skills they learned in the course can be immediately applied on the job to positively impact work relationships and improve the performance of their team.
This course is designed to give leaders the specific tools and skills they need to manage performance and ensure their employees' ongoing commitment to superior results.
Course Content
This is a highly practical course that teaches the four coaching conversations managers need to master:
Confronting (Performance Improvement through Corrective Feedback): Challenging an employee to do something differently or take the next step in their development. PLUS, how to "coach upward" to gain more support from influencers.
Counseling (Problem Solving): Solving any type of performance related problem.
Mentoring: Helping an employee learn to develop their career and how to function effectively within the organization.
Tutoring: Helping an employee acquire new job related knowledge or skills.
Course Includes
Two days of large and small group instruction relevant to leaders in all industries.
All course materials including the Coaching for Commitment text book, workbook and post-course tools for evaluating coaching skills.
Equip your leaders and managers with a proven process for effective performance improvement coaching.
Anyone in a leadership, management, supervisory, or project management role who is accountable for results that rely on other people's performance. Here are a few examples of when Coaching for Commitment can help you or your team:
You want managers and leaders to confidently, proactively take on the staff challenges and find lasting solutions to the mounting issues.
The organization's overall performance isn't where you want it and you're ready to take ACTION to achieve higher performance.
You're getting negative feedback from clients that needs to be solved at the management level ASAP.
Conflicts and workplace politics need to be addressed.
You have highly skilled managers who are less experienced in the people skills needed to lead their team.
Poor employee performance is holding the team back and needs to be addressed in real time.
You know that the right people, with the right support, are your greatest asset. Give them the support they need to grow and build value together.
Give them the tools they need to create a highly motivated, high-performing team.